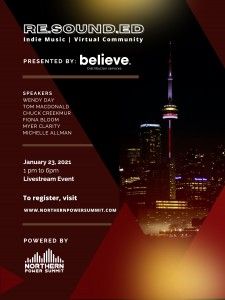 Northern Power Summit (NPS) will deliver its 5th annual conference virtually as a 3-part series beginning on Saturday, January 23rd, 2021. Parts 2 and 3 will take place on February 20th and March 20th respectively.  Staying true to the aim of previous in-person editions, the online series will continue to provide education and tools, as well as access to individuals to help Canadian artists and industry professionals develop their careers. 
"Traditionally, our focus has been on how artists can develop their career internationally – and that is still a focus, but we want to offer support and guidance to artists that are dealing with the effects of the pandemic," says NPS Co-founder D.O. Gibson. 
January's session, called Re.sound.ed, will focus on mental health and the independent hustle.  Keynote speakers include Tom MacDonald and Wendy Day. MacDonald, a Canadian-born rapper currently living in Los Angeles, has used music as an outlet to address struggles with his own mental health. Working without a manager or a label, MacDonald recently hit #1 on the rap charts on iTunes in the US while garnering over 100 million views on his YouTube channel. Wendy Day is a long-time music executive that helped rapper Lil Wayne and label Cash Money Records sign their groundbreaking record deal, and was also instrumental in Eminem securing his first contract with Interscope Records. 
Re.sound.ed will also feature expert industry sessions with Allhiphop.com CEO Chuck Creekmur, The Bloom Effect's Fiona Bloom, The Hook & Company's Michelle Allman-Esdaille, and multi-genre producer, songwriter, and hip-hop artist Myer Clarity. 
Re.sound.ed 
WHEN: Saturday, January 23, 2021 
TIME: 1:00 PM - 6:00 PM EST 
Further information is available at www.northernpowersummit.com 
REGISTRATION 
A portion of all registration revenue for January's event will be donated to Unison Benevolent Fund. 
* Believe Digital Special Early Bird Rate * (available until January 16th)  By Donation 
To make this event accessible to anyone with an internet connection, we are pleased to offer advanced registration by donation of any amount. We encourage all attendees to register in advance, but for those whose basic needs are currently being met, we hope you will consider a more generous contribution. Our special "by donation" advanced registration rate has been made possible by the financial contribution of our Platinum Sponsor, Believe Digital. 
After January 16th  - $20