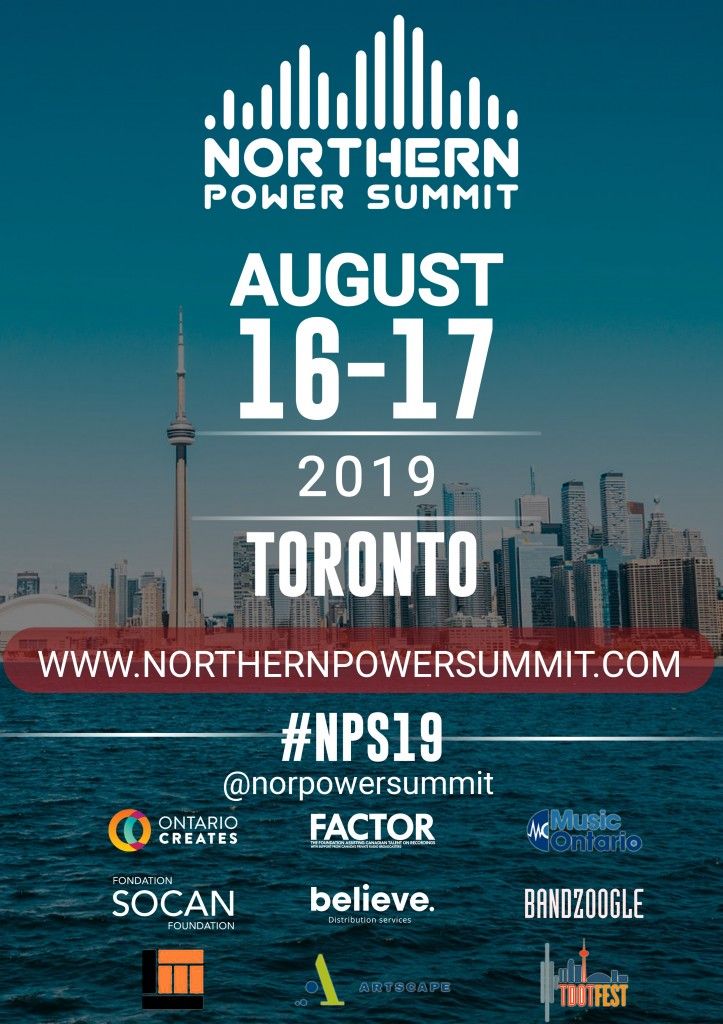 TORONTO, ON - Toronto-based management and consulting company, Northstarr Entertainment, will be bringing the 4th annual Northern Power Summit to the Artscape Sandbox and Supermarket in Toronto, ON from August 16th – 17th, 2019. This two-day urban music conference strives to provide education, tools and networking opportunities to the music community through interactive conference discussions with music industry professionals and music showcases. 
This year sees an incredible roster of conference speakers who will be sharing their music industry expertise with delegates of the two-day event. The inspiring keynote sessions will feature GRAMMY Award-winning rapper Michael "Mike" Wansley (better known as Wanz) and entertainment lawyer to some of music's biggest stars, Sander Shalinsky. The hands-on conference will also include industry experts Christopher "Deep" Henderson, Towa Beer, Nicolas Bouchard, David "Click" Cox, Fresh Kils, Kathryn Hummel, Kaya Pino, Phoenix Pagliacci, John Walberg, Charlie Wall-Andrews, Aisha Wickham, Petey Paragon and Marlon "Arlo Maverick" Wilson. Keynote speaker, Michael "Mike" Wansley, (aka. Wanz) is an American singer, songwriter and rapper who was featured on the Macklemore and Ryan Lewis' hit single "Thrift Shop", receiving two GRAMMY Awards for "Best Rap Performance" and "Best Rap Song". Wanz also hosted a Ted Talk conference event talking about his career in the music industry. 
Sander Shalilnsky will also be a keynote speaker over the weekend, bringing a wealth of knowledge as one of North America's leading entertainment lawyers for almost two decades. He has worked with every form of music client from major record labels to recording artists, managers, digital distributors and investors and is best known for having built CP Records (Massari, Belly, Mia Martina, Danny Fernandes) XO and The Weeknd, both from the ground up. 
"We are really excited to bring Northern Power Summit back for the fourth time. I've been to conferences for years and I was always disappointed at hearing the same generic messages. At Northern Power Summit, we pride ourselves in knowing that our conference gives artists the tools to succeed," Duane D.O. Gibson, the co-creator of Northern Power Summit explains. "I'm excited this year by the diversity of panellists and artists coming in from across the Country. I can't wait to see the collaborations and moves that the artists make after attending." 
The showcase component to Northern Power Summit and its dedicated networking opportunities provide delegates with the ability to connect face-to-face with these music industry professionals, giving a tangible experience for everyone evolved. 
Showcase artists include Ammoye, DijahSB, ethemadassasin, M.O. Littles, Lola, Marlon "Arlo Maverick" Wilson, John Muirhead, JENNA Nation, NightStillYoung, OXALA, Mighty Rhino and Taigenz. 
All information on conference speakers, showcasing artists, registration and event schedule is available at www.northernpowersummit.com. Early bird registration ($30) is available now. Conference programming will run from 12pm – 6pm each day. 
- 30 - 
About Northstarr Entertainment 
Northstarr Entertainment is on the forefront of Urban music in Canada as the leading management and consulting company focused on Hip-Hop. The style of music features a broad range of smooth, soulful, conscious, and melodic Rap music. With a solid track record of success, including consistent charting on national College Radio Charts, regular national commercial radio and video play, and tens of thousands of views on YouTube, Northstarr Entertainment is rapidly building buzz on an international scale.